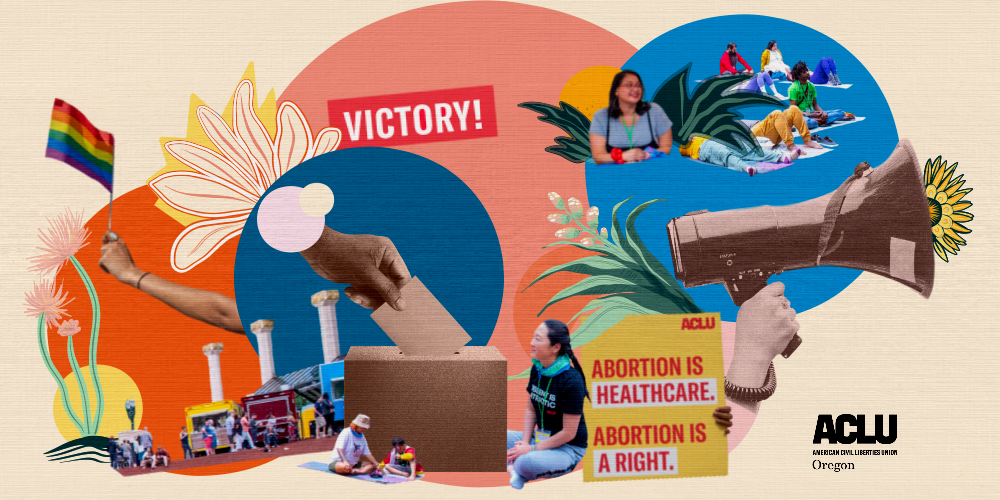 We are proud to be one of 250 nonprofits featured in the Give!Guide. Give!Guide is Willamette Week's annual effort to raise funds for — and draw attention to — the good works of local nonprofits. The grassroots campaign is supported by numerous local businesses, provides healthy incentives to donors, and emphasizes giving by Portlanders under the age of 36 to build a culture of citizen engagement. Donate to local nonprofits between November 1 and December 31 to make a difference in the Portland metro area!

GIVE TO THE ACLU OF OREGON THROUGH THE GIVE!GUIDE TODAY!
Learn about the community you're a part of!
Throughout the campaign, which runs through the end of the year you will have opportunities to learn more about the people who make up the ACLU of Oregon community and our values. We hope you will be inspired by and connect with our community members. Follow along on social media to learn about the beloved communiy you're a part of, celebrate what we've accomplished together, and get pumped for the work ahead. Please follow us on Instagram, Twitter, and Facebook to hear our stories.
Thank you to our business partners!
We are pleased to partner with The Sports Bra, She Bop and Remy Wines, who are generously supporting our participation in this year's campaign. Everyone who donates will receive a 15% discount (valid till 3/1/2024) to shop She Bop's online store! The first 12 donors who make a gift of $30 or more will receive a luxury massage oil candle (valued at $35), and the first 12 donors who make a gift of $100 or more will receive the highly reviewed Lelo Lily 2 vibrator donated by She Bop (valued at $130). Remy Wines will be generously donating a portion of proceeds from the sale of their Black Heart Blanc de Noir in support of our work and participation in this year's Give!Guide. Keep an eye out for upcoming details of our partnership with The Sports Bra!

Big Give Days!
Donate on a Big Give Day (BGD) and you'll be entered to win an exciting prize! This year the Give!Guide campaign has a mix of getaways, shopping sprees, and cool products. Some BGDs have extra chances for donors 35 and younger to win! You'll be entered for every donation you make and there's no limit. All winners will be notified immediately by the Willamette Week Give!Guide team. Good luck and give big! Visit the Give!Guide website for more details about the prizes.

November 01 | Three Big Oregon Getaways from SCP Hotels 
November 08 | Splendid Cycles E-Bike Extravaganza
November 15 | A Taste of Portland 
November 22 | Big Travel Pack Giveaway with Cotopaxi 
November 28 | Experience Guatemala with Nossa Familia 
December 06 | Shopping Spree from New Seasons Market 
December 13 | Portland Spirit Staycation 
December 20 | Powells's Big Book Day 
December 27 | Big Ink Day with Atlas Tattoo 
December 28 | Big Bird Day with Backyard Bird Shop
December 29 | Portland Nursery's Big Plant Palooza 
December 30 | Oregon Cultural Trust 

Support our community partners!
Given your commitment to protecting our civil rights, you may want to check out Basic Rights Oregon, Planned Parenthood Columbia Willamette, Street Roots, who are also featured in this year's Give!Guide. These organizations and the ACLU often partner in many ways, including through legislative advocacy and organizing — their work is critical to advancing civil rights, autonomy and choice for all Oregonians!