It is time to commute Oregon's costly death row.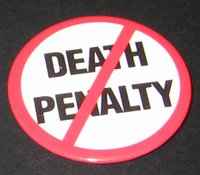 November 22, 2016 - Five years ago today, Governor John Kitzhaber issued a
moratorium on carrying out executions of Oregon's death row prisoners and called our death penalty a broken system. Governor Kate Brown has continued that moratorium. Both suggested that Oregonians needed to have a conversation about the morality and effectiveness of keeping a death penalty system. While the governor cannot get rid of the death penalty, only voters can do that, we suggest it is now time for the governor to commute all death row sentences.
New information regarding innocence, disability, and race has come to light that reinforces the widespread concern that Oregon's death penalty system is broken:
On November 10, the Oregon Innocence Project asked a state court to order a review of critical DNA and other forensic evidence on behalf of a death row prisoner. Jesse Johnson's case raises the possibility of an innocent person on Oregon's death row. We know there have been 156 people exonerated from death row nationally and there's nothing about Oregon's justice system that would somehow make a death row innocence case impossible.
In October of this year, a Multnomah County judge ruled that Michael Davis was ineligible for the death penalty due to his intellectual disability, his IQ has been measured to be as low as 61. He has been on death row for 11 years.
There are racial disparities in Oregon's death row – approximately 2% of the state population is Black but 9% of our death row is Black.
Additionally,
a new academic study
was released last week that examines the economic costs of death penalty cases in Oregon. Authored by professors at Lewis & Clark Law School and the Seattle University, Criminal Justice Department, the cost study shows that cases seeking death sentences cost approximately $1 million dollars more than cases seeking life without parole. This means death penalty cases cost nearly four times more than cases seeking life sentences. It should be noted that that is a conservative estimate as the costs analyzed in the study only included the defense and corrections related costs. Prosecutors would not provide their costs.
Since 1984, Oregon has not executed anyone who has exhausted their appeals. The two exceptions-- Douglas Franklin Wright in 1996 and Henry Charles Moore in 1997--voluntarily gave up their remaining appeals and were put to death by lethal injection. 
Based on this record, we could achieve the same results using life without parole sentences at a much lower cost to taxpayers. The current moratorium does not address the ongoing cost of death cases or prevent new death sentences from being charged. Morality aside, commutation is simply smart justice.
The governor has the constitutional power to change death sentences into sentences of life without parole. This power to "commute" would stop the ongoing appeals, and the costs associated with those appeals, of current death row prisoners.
The death penalty is a failed policy. Governor Brown should commute the death row sentences and provide the state a real opportunity for a reboot of this flawed system and use our limited resources to effectively keep our communities safe.